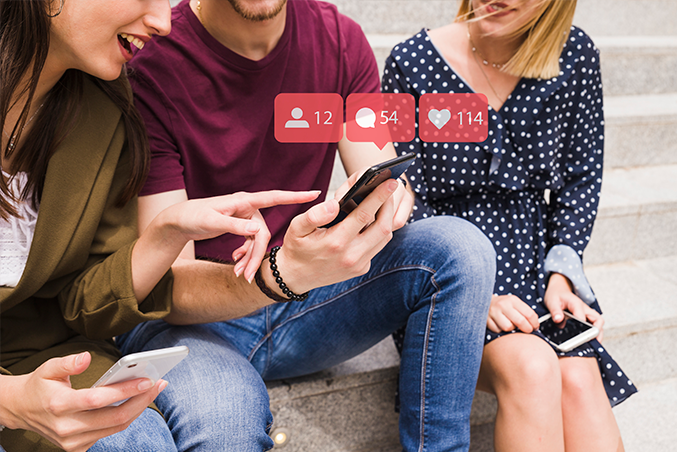 Communication is necessary. But so is to measure the impact on your social media of what we say. In this article we explain why and some important concepts.
Why should you measure your impact on social media
Posting content on social media without reviewing the result you're having is like talking with your eyes closed: maybe you're talking alone and you don't know it. That is why it is essential to know the metrics of these platforms and review them periodically.
Knowing which publications are successful and which go unnoticed will allow us to better understand our audience and make our message more effective. In this way we will avoid useless efforts on content that is lost, and we will send the important information to our audience.
Main concepts to measure your impact on social media
Sometimes it can be complex to understand the terms of the statistics that social media offer you. That is why we will offer you the explanation of what are the most important. This way you will avoid getting lost among so many data!
In our selection we rely mainly on those used on Facebook and Instagram, which are the most used platforms after all. But it can be said that in others most of them are also in force.
Followers and followers growth
This is the basic data and that we all know. But not for that we were going to leave it out of our selection.
Especially the variation in the number of followers offers us important data. Especially it allows us to appreciate something important: if in a general way we are doing things right or wrong. Making new followers is always a good symptom, just like losing them is a bad omen.
But it is also important to take into account the platform we are on, since that can affect. For example, Facebook is stuck and it is difficult to get new "likes", so sometimes we will not get it even if we are doing things right. Or at least if we do them acceptably.
The interaction with your publications
The interaction of your audience with your publications marks the interest we are awakening in our followers. There are several ways in which this interaction can occur: the likes, comments and save and send on Instagram or share and click links on Facebook.
All of them are interesting, although there are some that are easier to obtain and others that less, but more interesting. For example, "likes" are easier to get, but they don't give us much. However, a comment can spark conversations that invite more users to participate, and is better valued by the Facebook and Instagram algorithm because it requires more effort.
Review what response we are having and what type allows us to see the success of our publications. In this way we can redirect our strategy if necessary. Or else we can at least enhance those that have better results and perhaps set aside others that pass without grief or glory.
It is also advisable to calculate the interaction ratio generated in relation to the total number of your followers. Because it doesn't make the same sense to have 10 interactions if you have 50 followers or if you have 3,000!
The reach and impressions
These are two statistics that usually go hand in hand. In fact, they are often confused.
On the one hand, the reach is the number of unique users that see your publication or publications. Logic tells us that the reach should be our followers a priori, but the algorithm of these social nmedia means that not all of them appear in their feeds, and on the other hand we can sometimes reach people who are not our followers.
On the other hand, impressions are the times that the publication or publications appear in someone's feed. This data shows the number of impacts, but does not discriminate the number of users, so several of them may be on the same people who receive the content several times.
Looking at the interrelationship of these two statistics will allow us to see how many times the content is appearing on these people's media. Although this does not mean that they do any kind of interaction with them. But at least they will be watching!
Instagram: interactions with the profile and stories
Also in the case of Instagram we also have a couple of blocks of statistics that are interesting.
First, the interactions with the Instagram profile of the company or entity. These data show us if there are people who are accessing us through our biography. For example, by entering our website, email or calling us through the data that we deposit in our description. In this way, we can know how effective our profile is and sometimes see patterns of behavior related to our content.
In addition, Instagram stories open a whole way of communicating that you can not ignore if you want to reach your audience. Its long-term metrics are less developed, but you can check at least the impressions of the ones you publish.
However, during the 24 hours in which you still have it published, you will be able to see some very important data: navigation statistics. This small section will allow you to see how many people have seen your story, how many have passed to the next one before it ends and how many have left directly and stopped watching stories from yours. So you can know which ones attract attention or not.
Let us measure the impact on your social media
Cetrex Marketing is a digital marketing agency in Mataró specialists in web design, SEO and SEM positioning, and social media. So if you do not see this data clearly or do not know how to improve it, trust experienced professionals, such as us.
Check all that our 360º Pack can offer you and do not hesitate to call us. We will make your social media give great results!