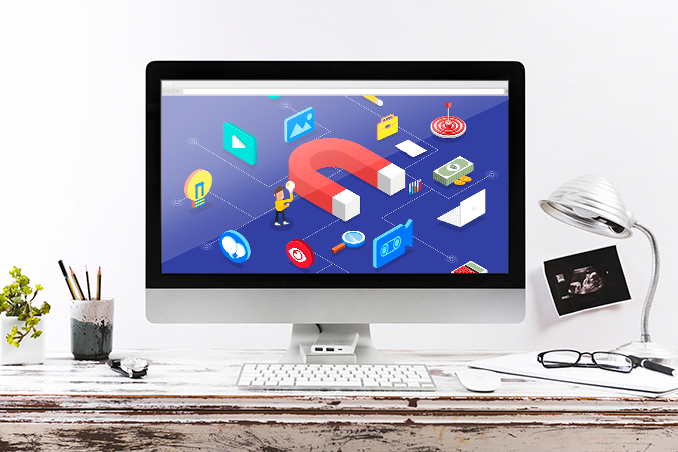 Inbound marketing is an indispensable tool for any company. So keep reading if you still do not know why you need it.
The so-called inbound marketing, or marketing of attraction, groups different techniques considered non-intrusive, aimed at attracting consumers or customers. Its key is to bring value through actions such as SEO, content marketing or presence in social networks.
This term was coined in 2005 by the co-founders of a company specialized in marketing. Its purpose is none other than providing support to the person who initiates a process and the goal is to consume a product or acquire a certain article.
How inbound marketing works
The process of functioning of the inbound marketing is developed in several phases based on the steps of the process of purchase or consumption that follows a person. The theorists present different models when referring to them. There are those who set four (attraction, conversion, education and closure). Others count 3 (attract, interact and delight), although they name them differently (visibility, attracting and loyalty). In all cases, there are some actions that are invariably repeated.
1. The process begins by catching the attention of an unknown person considered a potential buyer or consumer, in turn, to attract it to the website of the company that chooses this strategy. For this purpose, social networks, the SEO / SEM positioning, the creation of events and the marketing of content, among other elements, is used.
2. Once the website receives visits, the challenge is to convert them into records. Capturing is materialized by offering personalized content in exchange for filling out a form with your personal data. This is how the registry is managed, which allows you to zoom in on the database of the company in question. In the path of loyalty, emails will be sent, contents will be created to suit the user's needs, they will keep in touch with him … Here's what is called Lead Marketing.
3. This route closes with the materialization of the purchase or the desired consumption. But in addition to adding a customer, it is pursued to achieve its loyalty, to become a prescriber of the signature. They will continue to create content for him and share them, making his impact multiply.
Benefits of this type of marketing
The benefits in which this type of marketing is translated are numerous, as you can see below.
Increases the number of visits to the company's website as a result of the increase in traffic. They also improve the numbers of contacts and registries.
The brand achieves greater visibility and as a result, it grows in popularity. It also increases confidence in it, regardless of the sector to which it belongs.
It saves costs compared to the implementation of advertising campaigns.
Ideas to make inbound marketing
You can put as many ideas into practice as you can imagine. We explain some that will be very useful to you.
Create personalized content.
Produce a video that is disseminated through social networks.
Keep alive a blog with updated content.
To resort to the collaboration of an influencer related to the sector of the company.
Has professionals in inbound marketing in Mataró
Digital marketing has come to stay. Its success sets the foundations for a promising future. So make sure you have good allies in this sector that will ensure you get good results.
At Cetrex Marketing we are experts in digital marketing in Mataró and we make sure your business enjoys the benefits of these practices. Thanks to our application of inbound marketing and other techniques, we increase the visibility, notoriety and presence of our customers. So do not think about it anymore.
Join the vanguard of inbound marketing in Mataró and the Maresme! Call us and let everyone know your business.