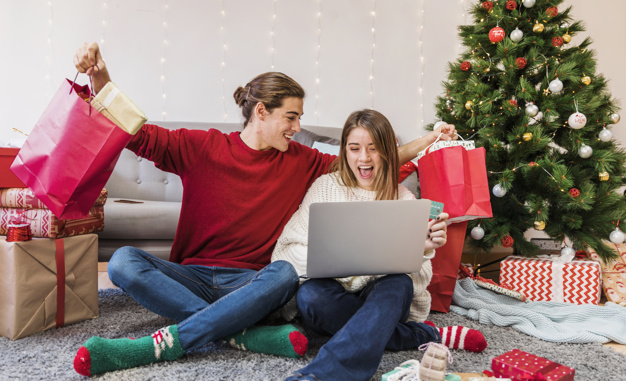 When thinking about the Christmas campaign, many of us would imagine long queues of people in shops and shopping malls. Especially the days leading up to December 25th. However, we are sure we are not wrong to add these last-minute purchases to the list of Christmas traditions that will be altered by the pandemic. Thus, a significant change in consumer behaviour is expected in one of the key campaigns of the year for all types of stores and shops.
More digital shopping than ever before
Knowing that the transformation of the consumption model is a proven fact, it is worth mentioning that online shopping will have more importance than previous years. In fact, Google reports that 57% of Spanish consumers will use the online channel more than other years. 74% will search the network for gift's ideas.
So, in this Christmas campaign, having an online store is a must for any brand, store or shop. There are many wellknown brands that have seen in e-commerce a necessary investment in the wake of the pandemic. A really good example is Adolfo Dominguez, who will soon launch a new mobile app that will allow to personalize the customer experience as well as a personal digital shopper service.
Early Christmas shopping
This year it is expected that face-to-face purchases made at the last minute will give way to online purchases made some time in advance. The truth is that the pandemic has led to a change in the consumer behaviour trend, but not just in terms of the growth of e-commerce. Different surveys and studies worldwide indicate that this is a deeper change.
One of the trends expected for this Christmas is related to the overtaking of the shopping experience. Results indicate that many customers this year will prefer to buy in advance, thus being able to make purchases without having to come into contact with large masses of people. Moreover, in this way, it is easier for them to benefit from promotional campaigns, especially in online media.
In fact, this is a phenomenon that has been happening as a consequence of campaigns such as Black Friday (at the end of November). But the uncertainty of new lokdowns and the fear of closure of physical establishments accentuates this forecast even more.
Given this situation, we encourage all online sellers to start their Christmas campaign as soon as possible, taking advantage of promotional events such as Black Friday or any other campaign of their own.

The shopping experience in physical stores: from hobby to need.
The Google study also concludes that this Christmas, 50% of consumers will choose to shop at stores that offer a non-contact experience, while 46% ensure they will resort to options for online shopping and in-store or contactless pickup.
Thus, the current health situation generates in consumers the desire to spend as little time as possible in the store and solve the purchase quickly. Taking into account all these data, all those local businesses that put their establishments at the service of the online sales strategy can generate great advantages over their competitors.
Although we have become unpredictable consumers, and will have to be very aware of any new situation, it is useful to stress that this year it is important to work on flexible digital strategies. These must allow us to meet the needs of customers in different scenarios. Greater online visibility, optimized websites that offer an optimal user experience and optimal management of the digital marketing strategy can be key to the Christmas campaign we are about to start.
Follow us in our networks to keep you informed!